13:00PM -15:00PM ET
MIT.nano 12-0191
Image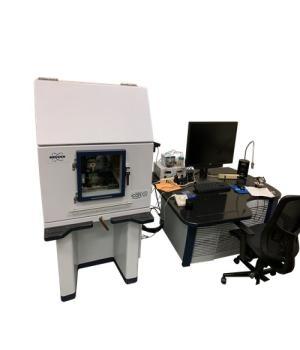 This training event will focus on the basic imaging and operation of the Bruker Icon AFM available at MIT.nano Characterization Facilities. Starting from the basic principles of AFM, users will also learn about cantilever selection and installation, different imaging modes, image quality improvement, and data processing and analysis methods. Users can bring their own samples for this training and SPM probes are provided. Notice, users must supply their own probes for followup qualification sessions. Full independent tool access will be granted upon completion of 2 additional one-on-one supervised use sessions that will be coordinated with the staff member during this small group training.
The Icon XR has many SPM modes including contact and PeakForce tapping mode with ScanAsyst, Magnetic Force Microscopy, Piezo Force Microscopy, conducting atomic force microscopy (AFM). There are also additional features such as electrical characterization from 80 fA to 1 uA with 10 nm spatial resolution, Kelvin Force Probe Microscopy with amplitude or frequency feedback, and pixel-by-pixel quantitative force characterization to probe material properties. Following the basic training session, users can coordinate an advanced mode specific training with the MIT.nano staff.
Active MIT.nano user account is required to participate in this training. Please setup an account prior to registering for the training event. 
Contact Email
elshaw@mit.edu