Steps to become a user
1. Be ready to supply an MIT account number.
If you are not sure what account number to use, ask your advisor/PI or your administrator.
New users must create an account and register with the MIT.nano & MTL User Machine Management System (MUMMS), a web-based application that manages user accounts and permissions.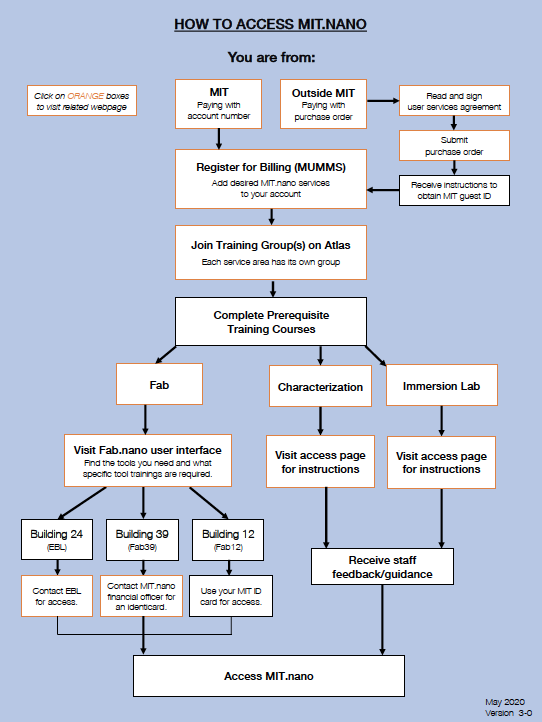 3. Add MIT.nano services to your MUMMS account.
Within MUMMS, you must specify which facilities/laboratories you wish to access. You'll be presented with a list when you login to MUMMS. Check all that apply.
Note: you can add or remove services from your MUMMS account at any time.
4. Join the EHS training group on MIT Atlas.
Each MIT.nano service has an associated training group where training requirements have been identified based on the hazards present in each space.
The MUMMS system has a link to direct you to the Atlas Learning Center, where you must join any relevant training groups in order to access your training prerequisites. After joining the appropriate training group, new required training courses will appear in your My Training Needs list. 
5. Complete all prerequisite training courses.
Login to the Atlas Training Center and complete each of the required courses in your personalized list.
Note that prerequisite training for MIT.nano services will only appear in your My Training Needs list if you have joined a training group, as described above.
Learn more about training and safety sessions.
6. Follow instructions for specific functional areas.
Visit the pages below to learn of any additional training or requirements specific to different functional areas of MIT.nano:
Accessing Characterization.nano
7. Familiarize yourself with CORAL.
Once you have completed all required training, you can begin reserving time on MIT.nano-managed facilities and equipment. 
Common Object Representation for Advanced Laboratories, or CORAL, is a web-based suite of software tools designed to help with the management and operations of labs such as MIT.nano. CORAL is your platform to reserve machine time and engage the machines. You can also use CORAL to check tool status, report problems, and communicate results.
Need help on your process? Email nanohelp@mit.edu.
8. Review the user policies.
MIT.nano is a shared facility. It is crucial that all researchers strictly adhere to the user policies for the safety of people, projects, and tools. Violation of any of these policies may result in revoked access.
9. Become an approved COVID-pass user.
During the COVID-19 pandemic, campus access is restricted to a subset of approved users. After you have completed all of the steps outlined above, contact Kathy Boisvert to be set up as a COVID-pass user.
Start using MIT.nano facilities.
Once you have a MUMMS account, are familiar with CORAL, and are up-to-date on required orientation sessions and training courses, begin to use MIT.nano facilities.
Use this site to find basic information about specific spaces and equipment, including specs and applications. Individual tool pages also specify location, training schedules, and other information. Visit the Fab.nano, Characterization.nano, and Immersion Lab sections to review capabilities and learn more about policies and procedures for access.
Questions? Email us.