Read the criteria for external non-academic projects.
Read the criteria for external academic or government projects.
Whether from industry, government, or other academic institutions, researchers must follow these initial steps: 
1A. Inquire about using MIT.nano.
If you have questions, submit an inquiry form. Let us know basic information about who you are, what you hope to work on at MIT.nano, and what equipment/capabilities you need so that our technical staff can guide you.
If you have the information you need to proceed, move on to the next step.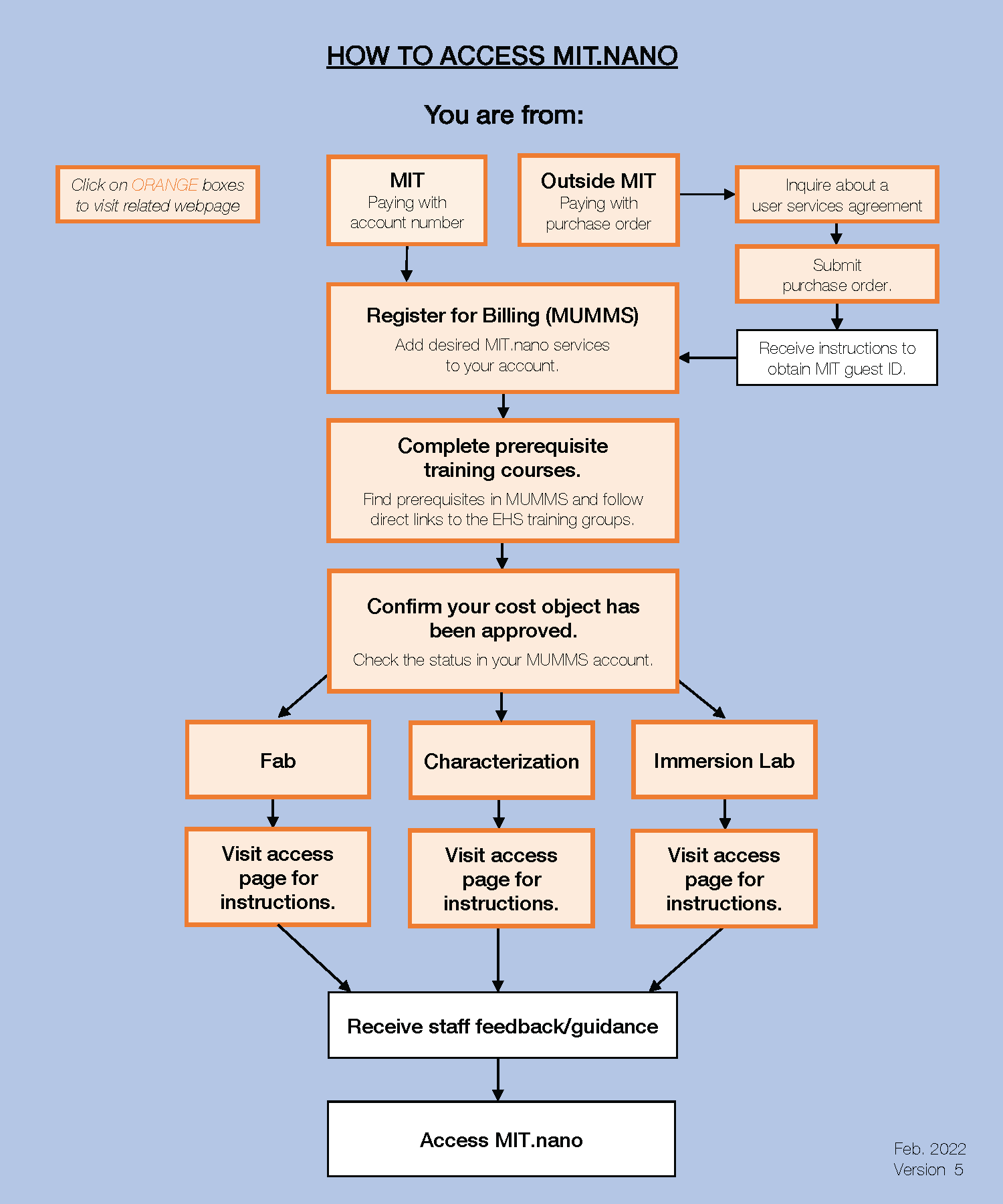 1B. Inquire about a user agreement.
Determine whether or not your institution has a user agreement in place with MIT.nano. If not, send the user services agreement (download) to an individual within your institution who has signing authority. Have that person contact MIT.nano's Administrative Officer, Kathy Boisvert, to complete the process. Please note only one user agreement is needed per institution.
1C. Upload a purchase order.
Prior to registering, external users must generate a valid purchase order approved by their supervisor or other entity authorized to provide approval.
Fill out the purchase order information form and upload your purchase order.
1D. Obtain an MIT Kerberos identity.
An MIT ID and Kerberos account are required to register as an MIT.nano user. If you do not have them, our staff can sponsor you as a MIT guest, which will allow you to receive an MIT ID and register for a unique MIT Kerberos account name through the main MIT systems.
Use this form to begin the access process.
1E. Next steps
After obtaining an MIT ID/Kerberos login and submitting the required purchase order information, external users should follow the instructions for internal users, starting with step #2, "Registering in MUMMS."