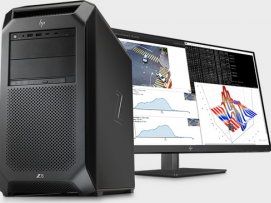 This workstation at the MIT.nano Immersion Lab has the capability to run complex simulations, handle advanced machine learning algorithms, and process huge amounts of data. The current configurations are as follows:
Dual Intel Xeon 6240 2.60GHz 18C CPU
Dual NVIDIA RTX 8000 GPU
384GB (12 x 32GB) DDR4 2933 ECC-registered memory
HP Z Turbo Drive M.2 1TB TLC SSD
2 x 4TB 7200 SATA Enterprise 3.5in
Run 3D simulations and edit 8K video in real time with up to 56 processing cores and up to 3 TB high-speed memory. Read more from HP.
---
Many application areas can take advantage of the HP Z8 data science workstation. See what you can do with this tool for: