VELION is a FIB-SEM instrument dedicated to nanofabrication where Focused Ion Beam (FIB) technology has matured into state-of-the-art instrumentation for nanofabrication and rapid prototyping. VELION comprises a top down mounted nanoFIB column perpendicular to a Laser Interferometer Stage with an attached FE SEM column. The instrument offers unique capabilities and is highly optimized for fabricating high resolution, 2D and 3D nanostructures.
Specifications/Capabilities
nanoFIB column:
Liquid Metal Alloy Ion Sources (LMAIS) providing Wien filtered ions for Gallium-free patterning (Au, Ge, Si)
High resolution patterning capabilities (min feature size < 15nm for Au/Si)
Fully corrected write fields (distortion, stigmation)
Long term current stability (up to days)
Laser Interferometer stage:
Mechanical movement at 1nm precision
Continuous stage modes for stitch free FIB patterning on full 4"wafer scale
Stitching and overlay accuracy:  < 50 nm (|mean|+3·sigma)
FE SEM
Process control for rapid prototyping
Additional Capabilities:  
Automated height sensing to detect sample surface height variation for automated correction
Pt GIS deposition
Nanomanipulator
Raith Nanosuite software incl. CAD (GDSII) navigation & patterning
Applications
Plasmonic devices
Meta materials
Localized Ion implantation
Nanophotonics
Waveguides
Fresnel lenses
Nanofluidics
Nanopore fabrication on waferscale
Large area FIB hard masking
Ga-free TEM-L prep
Resources
VELION FIB-SEM acquisition was enabled by National Science Foundation Major Research Instrumentation Program (NSF-MRI). Please make sure to acknowledge DMR-2117609 in any publication involving results originated from the use of the VELION.
Suggested language: " This work was performed in part on the Raith VELION FIB-SEM in the MIT.nano Characterization Facilities (Award: DMR-2117609)"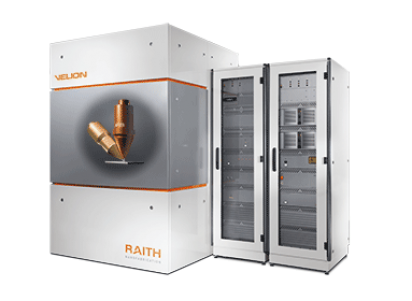 Reservation Rules
Prior electron microscopy imaging experience is required to become an independent user
Location
12-0189
MIT.nano (basement level)
60 Vassar Street (rear)
Cambridge, MA
Rates/$
 
Self Use 
($/hr)
Staff Assisted 
($/hr)
MIT Academics   
81.90
141.40
Other Academics
117.00
202.00
External               
351.00
606.00
* Introductory rates valid for 2020